Michael R. Kostelansky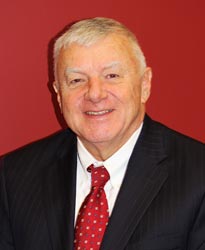 Michael Kostelansky has been practicing law in Luzerne County for over thirty years. Mike has served as a law clerk for two judges on the Luzerne County Court of Common Pleas – the Honorable Bernard J. Podcasy and the Honorable Hugh F. Mundy. He also served as an Assistant District Attorney from 1986 to 1988 where he prosecuted all types of crimes including the prosecution and trial of several murder cases. Mike was the first Master in Support of the Luzerne County Domestic Relations Office and assisted Luzerne County establish the current Master's system.
During his three decades of practice, Mike has handled personal injury cases, workers compensation claims, estates, divorce, custody disputes, civil rights claims, and contract litigation. Mike also has extensive experience in labor law. Mike has represented numerous local governments in police and fire contract negotiations and Act 111 interest arbitrations. Mike has represented ten different local governmental units in all kinds of matters including labor, general litigation, employment law and pension matters.
Mike has served as Solicitor to the Luzerne County Board of Assessment Appeals. He has handled hundreds of assessment appeals and trials before the Court of Common Pleas and appeals to the Commonwealth Court of Pennsylvania. From 2000 to 2005, Mike served as an Assistant Solicitor for Luzerne County. In that capacity, he engaged in contract negotiations, appeared before the Pennsylvania Labor Relations Board, handled matters with the U.S. Department of Labor, U.S. Equal Employment Opportunity Commission, and Pennsylvania Human Relations Commission. Mike has also handled multiple civil rights actions in the federal courts and provided legal representation to the Luzerne County Correctional Facilities Board.
Mike earned his law degree from George Mason University School of Law. Mike is a member of the Pennsylvania Supreme Court, Federal District Court for the Middle District of Pennsylvania, Third Circuit Court of Appeals and the Federal District Court for the Western District of Pennsylvania. Mike has lectured on Workers Compensation Law and on Act 111 Interest Arbitration.