Personal Injury
The attorneys at The Blazick Law Firm have extensive experience handling all types of personal injury claims for both plaintiffs and defendants.
Motor Vehicle Accidents: The attorneys at The Blazick Law Firm have a combined fifty years of experience representing injured persons, defendants and insurers in claims involving motor vehicle accidents. Our attorneys have handled claims involving automobiles, tractor-trailers, motorcycles, and pedestrians. We also have extensive expertise handling insurance coverage issues, uninsured and underinsured motorist claims, and bad faith claims.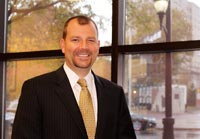 Premises Liability: We have represented injured persons, healthcare providers, businesses and homeowners in cases involving all types of premises liability claims including: sidewalk defects, spilled substances, employee negligence, ice/snow and construction accidents.
Product Liability: Attorney Mike Blazick has extensive experience handling complex and highly scientific product liability claims. Mike has handled product liability claims involving industrial equipment, farming implements, chemicals and dietary supplements. We have worked with experts in fields including metallurgy, mechanical engineering, epidemiology, cardiology, and pharmacology. We also have unique experience litigating complex scientific issues involving challenges to the admissibility of scientific evidence under both the Daubert and Frye standards.